Translate this page into:

doi:
10.25259/IHOPEJO_26_2022
Ultrasound B-scan in pediatric glaucoma
1
VST Center for Glaucoma Care, LV Prasad Eye Institute

,

Hyderabad, Telangana

,

India

*
Corresponding author: Sirisha Senthil, VST Center for Glaucoma Care, LV Prasad Eye Institute, Hyderabad, Telangana, India. sirishasenthil@lvpei.org
Received: , Accepted: ,
© 2023 Published by Scientific Scholar on behalf of IHOPE Journal of Ophthalmology
Licence
This is an open-access article distributed under the terms of the Creative Commons Attribution-Non Commercial-Share Alike 4.0 License, which allows others to remix, transform, and build upon the work non-commercially, as long as the author is credited and the new creations are licensed under the identical terms.
How to cite this article: Kolipaka GP, Senthil S. Ultrasound B-scan in pediatric glaucoma. IHOPE J Ophthalmol 2023;2:9-13.
Ever since ultrasonics have been introduced in the diagnosis of ophthalmic pathology by Mundt and Hughes,[1] various modifications and developments have taken place and with the advantage of ultrasound machines being portable, it has made its place in everyday use of ophthalmic clinical practice. Standardization of the A-scan and combining the standardized A-scan with contact B-scan probe by Ossoinig[2] led to more reliable detection and differentiation of many orbital, periorbital, and intraocular conditions both in opaque media where fundus view is obscured and in clear media as a supplement to the clinical examination. While the use of ophthalmic ultrasound in various adult ophthalmic pathologies has been widely studied and published,[3-5] there is very sparse literature about its role in pediatric cases especially in pediatric glaucomas. Children and developmentally impaired individuals may not cooperate well with other investigative modalities such as ultrasound biomicroscopy (UBM), anterior segment optical coherence tomography, computed tomography, or a magnetic resonance imaging. Ultrasound examination, on the other hand, is a simple, quick, well tolerated, and relatively inexpensive diagnostic modality that has a great potential to aid in pediatric ophthalmological practice. In this article, we would like to highlight various ways the ultrasound B-scan can be used in the diagnosis and management of pediatric glaucoma with case examples.
PRINCIPLES OF OPHTHALMIC ULTRASOUND
Ultrasound probe contains a piezoelectric ceramic crystal which when subjected to the electric pulse vibrates and produces ultrasound. Ultrasound uses acoustic waves of more than 20,000 oscillations per second and is inaudible to human ear. While abdominal ultrasound uses frequency of 5 MHz with longer wavelength, deeper penetration and lesser resolution, UBM uses a frequency of 50 MHz with shorter wavelength, and shallow penetration causing maximum resolution. Ultrasound B-scan uses 8–10 MHz of frequency with shorter wavelengths causing intermediate penetration and intermediate resolution. When the ultrasound pulse enters the eye, it is reflected by various normal and abnormal interfaces. Reflected pulse is received by the receiver. Echo is a property of the sound wave. When sound wave strikes a surface, part of it is reflected and heard as echo. After processing and amplification of the returning waves, these pulses are displayed on the display screen as echograms. Ultrasound B-scan uses two-dimensional display where the returning echo is represented as a dot and strength of the echo is represented by its brightness with the brightness being directly proportional to the strength. Gain is the procedure of increasing or decreasing the amplitude of returning echoes that are displayed on the screen. Ultrasound machine in the present day combines B-scan probe with a cross vector facility where the A-scan spikes are also generated in the area at which the cross vector is applied.
ULTRASONOGRAPHIC APPEARANCES OF NORMAL OCULAR STRUCTURES IN CHILDREN
The average axial length of a full term newborn is usually around 15–18 mm with an anterior chamber depth of 2.4–2.9 mm.[6] The eyeball continues to grow gradually until it reaches the adult axial length of 22–24 mm which is usually attained by around 4 years of age.[7]
Cornea and the anterior chamber are usually not visualized easily without adequate standoff or immersion technique. Lens in children is usually anechoic and is represented by the anterior and posterior echoes which represent the margins of the lens perpendicular to the sound beam. Posterior to the lens lies the vitreous which is usually anechoic in children [Figure 1]. The Posterior wall of the eyeball which constitutes the retina, choroid, and sclera from anterior to posterior are equally echogenic structures and are sonographically indistinguishable from each other. The posterior wall usually measures between 1 and 2 mm in thickness.[8] Beyond the sclera lies the echogenic orbital fat with a hypoechoic band extending posteriorly through the fat representing the optic nerve.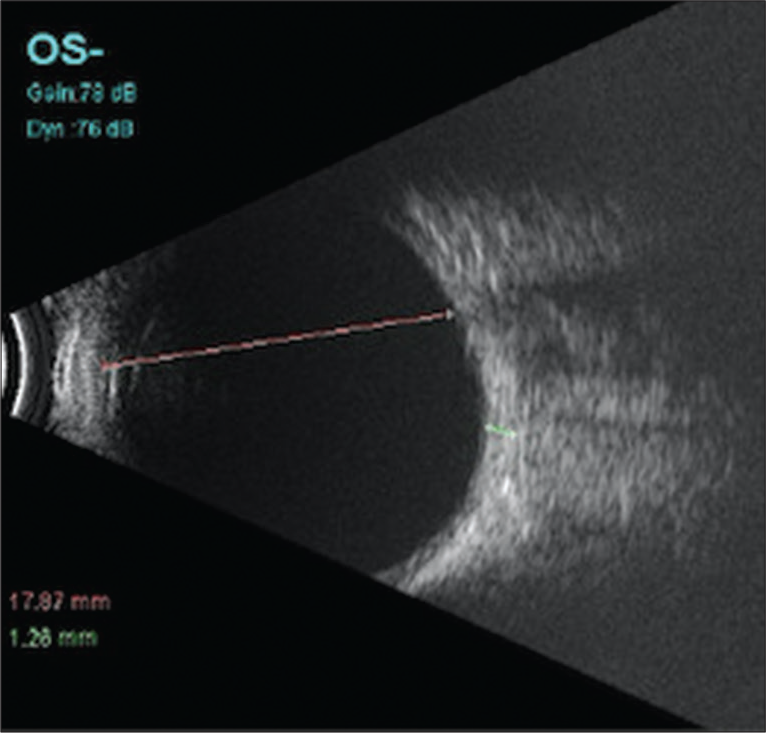 APPLICATIONS OF ULTRASOUND B-SCAN IN PEDIATRIC GLAUCOMAS
Declaration of patient consent
The authors certify that they have obtained all appropriate patient consent.
Conflicts of interest
There are no conflicts of interest.
Financial support and sponsorship
Show Sections